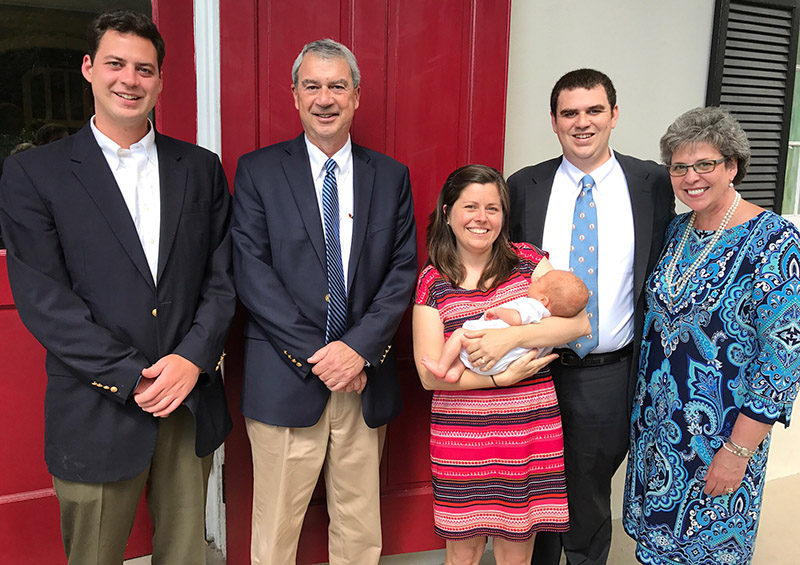 Manakin's Vestry joyously announces news of its new Rector – the Reverend Virginia "Gini" DiStanislao. Gini's engaging and compassionate personality, along with her passion for preaching, her love for working with youth, and her commitment to pastoral care and outreach make her a wonderful addition to our Manakin family.
Gini comes to us from The Episcopal Church of St. Paul and St. Andrew in Kenbridge, Virginia, where she's served as the Priest in Charge since her ordination in 2008. Born in Chesterfield County to Ernest and Virginia Gates, Gini grew up in Central Virginia, attending St. John's in Chester and then Christ and Grace in Petersburg. She graduated from Mary Baldwin College in 1984 with a Bachelor of Arts in Economics and went on to become the President of Bon Air Title Agency in Richmond, where she worked with real estate attorneys and professionals throughout the Commonwealth of Virginia. In 2005, Gini heard God's call and decided to pursue a path to ordained ministry that took her through the School of Ministry Formation in the Episcopal Diocese of Southern Virginia. Gini currently serves on the Executive Board of the Diocese as the Vice-Chairperson.
Gini and her husband, Phil, are residents of Petersburg. Phil is a Juvenile and Domestic Relations Judge for the City of Petersburg. He grew up in the area, attending St. Christopher's. He is a graduate of Hampden Sydney College and of the T.C. Williams School of Law of the University of Richmond. Gini and Phil have two sons, Thomas and Drew. A few years ago, their family gained a daughter when Thomas married Elizabeth, and just a few months ago, their family celebrated the arrival of a grandson, Phillip. Gini and Phil also have an eight-year-old black lab rescue dog named Millie.
Gini's interests outside of church include walking and hiking with Phil, watching sports, and spending time in the mountains with family and friends.
When asked about joining Manakin, Gini's face lights up, and her happiness is palpable. She talks excitedly about this next part of her faith journey and of becoming part of Manakin's Church family.
Gini's first Sunday at Manakin will be December 3.
Join us in welcoming Gini and Phil to our Parish!